Science of Self Accreditation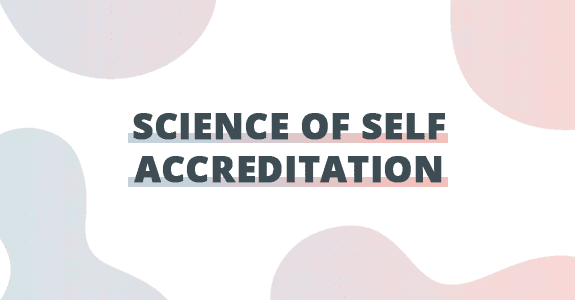 What is the Science of Self™ Accreditation?
The Science of Self™ Accreditation is an accelerated, two-day accreditation to earn your DISC Accreditation, Driving Forces Accreditation and EQ Accreditation and gain access to six cutting-edge assessment tools. If you are a trainer, coach or consultant looking for an assessment toolkit to complement your business, look no further!
Why Attend

the Science of Self™ Accreditation?

2 Days, 3 Accreditations & 6 Tools! Now 100% Virtual - Get Accredited Now, from Anywhere!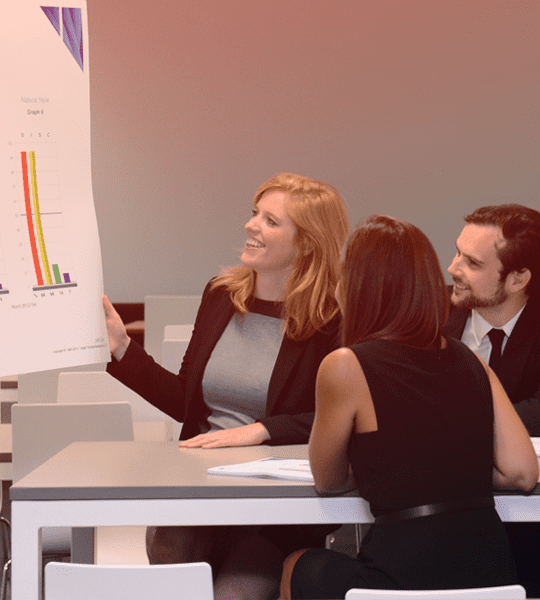 The Ultimate OD Toolkit at the Ultimate Price
We have been providing psychometric testing and accreditation training in Australia & New Zealand for over 30 years. In this time, we have seen many good and bad ways in which assessment tools have been used by consultants, trainers and coaches all over the world — and we have worked with thousands. Through this experience, we came to develop something called the "multi-science" approach. We were actually the very first company in the world to pioneer this concept in the assessment industry. "Multi-science" simply means the use of more than one assessment. It is our firm belief that ALL trainers, coaches and consultants should have more than one assessment in their toolkit. This belief is based on two core ideas:
1. Multiple tools (or sciences) helps to avoid "model blinkers" — something that occurs when a consultant only has one model and they apply it to all people in all situations.
2. Like a Swiss army knife, having multiple tools in your kit means you have more solutions to more problems and can offer more value to your customers.
So if you're looking for an accreditation that can equip you with a "Swiss army knife" for trainers, consultants and coaches, then the Science of Self™ is for you.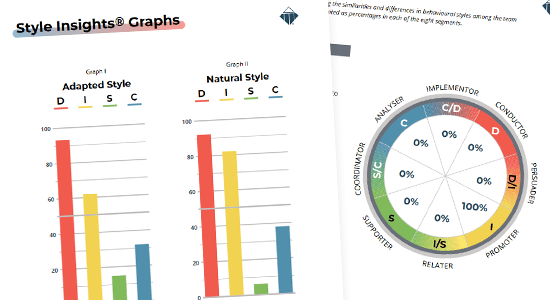 DISC Accreditation
DISC is a four (4) factor model that explains how we behave and communicate. It is one of the most applicable models in personal and organisational development. For this reason, DISC is one of the worlds most popular assessment tools.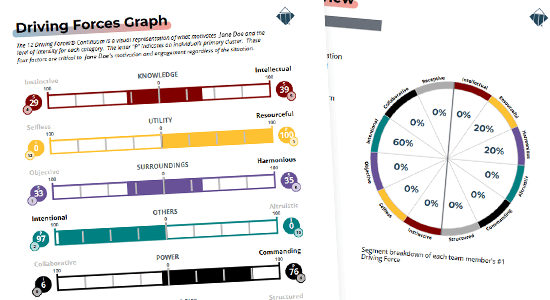 Driving Forces Accreditation
Go beyond the DISC assessment to truly understand "why people move into action." Our Driving Forces model is backed by more than 25 years of research, uncovering 12 core elements that drive human behaviour.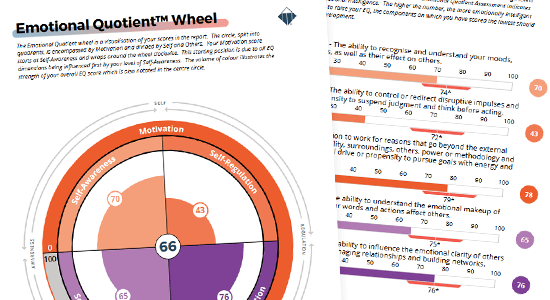 TTI Emotional Quotient Accreditation
Our Emotional Quotient Accreditation is internationally recognised and will equip you with the worlds most practical and business-focussed set of emotional intelligence resources available.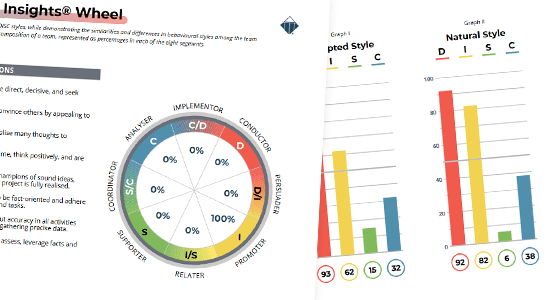 DISC Profile
As one of the worlds most popular assessments, the DISC report gives you not only an understanding of how you are perceived by others, but it also gives you a framework to understand behaviour, communication, style of working and reactions.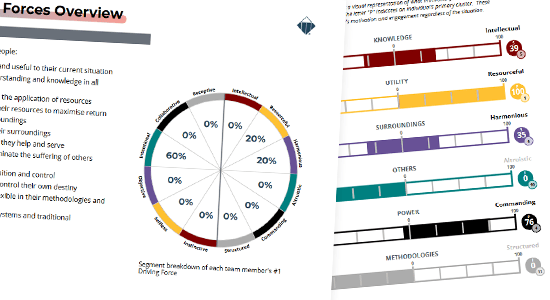 Driving Forces
The Driving Forces assessment allows people to tap into a deeper realisation of who they are. They will gain powerful insight into why they move into action and what intrinsically motivates them to achieve — the true source of engagement.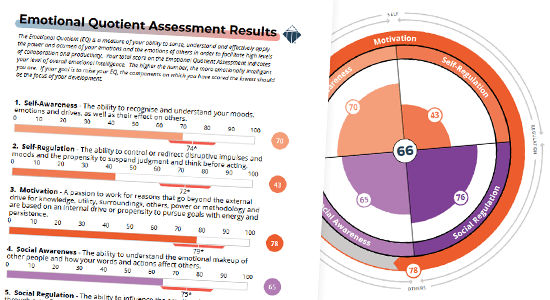 TTI Emotional Quotient
Highly developed emotional intelligence is one of the most sought after traits in business. The TTI EQ provides a framework to become more aware of, understand, and develop emotional intelligence — in ourselves and others.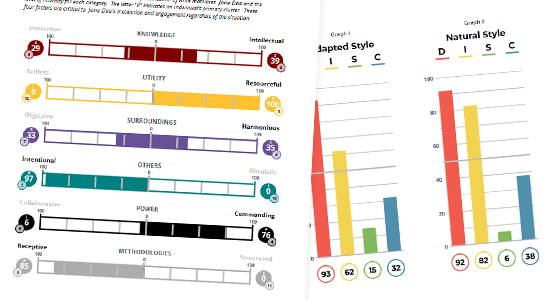 Talent Insights (Double Science Profile)
The Talent Insights (combining DISC + Driving Forces) is a powerful innovation that combines the simplicity of DISC with the insights of the Workplace Motivators. With this tool, you will be able to identify HOW people behave as well as WHY they move into action.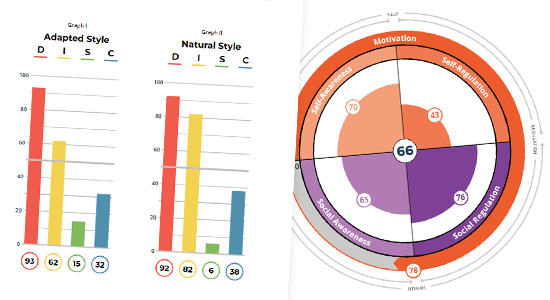 Behavioural Intelligence (Double Science Profile)
Another powerful addition to our suite of tools is Behavioural Intelligence™. This tool allows you to examine a person's level of emotional intelligence (TTI EQ), as well as their behavioural style (DISC). With this information, you can talk about specific emotional intelligence traits and how to apply them at a behavioural level.
TriMetrix EQ (Triple Science Profile)
The latest tool in our powerful suite combines DISC, Driving Forces and TTI Emotional Quotient. This tool will help you explore HOW a person behaves and communicates, WHY they move into action, and DO they actively apply the principles of emotional intelligence.
The
Resources

and Support

It is our goal to provide you with the knowledge to understand and interpret reports as well as to provide you with everything you need to apply the assessments in your business immediately. That is why our accreditation program includes, at no extra charge, all of the following resources and materials to help you succeed.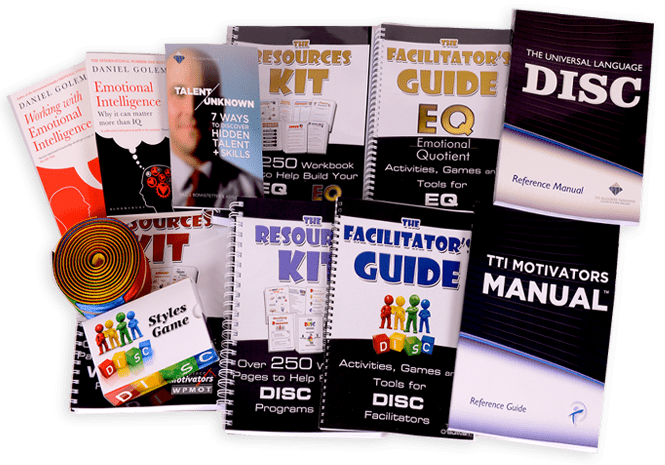 As part of this accreditation you will get:
Earn 3 internationally recognised accreditations
Gain access to 6 cutting edge assessments
Maintain lifetime access to our award-winning e-learning platform
Receive the Science of Self™ Manual
Receive DISC & Driving Forces activity belts
Be personally debriefed on your 60+ page TriMetrix EQ profile
Receive copies of our research and validation data

Unlock FREE access for 1 year to Facilitators Heaven, including:

Facilitation process documents
Complete DISC facilitator's notes
Complete 12 Driving Forces facilitator's notes
Complete Emotional Quotient facilitator's notes
200+ DISC workbook/activity pages
200+ Driving Forces workbook/activity pages
200+ EQ workbook/activity pages
1000+ PowerPoint Slides
I am very impressed by the amount and quality of the support material. Far superior to any post accreditation materials I have received.
Teresa
Corporate Wisdom
The content, facilitation, resources and models are excellent. The ability to add value within my client services is exciting.
Christine
The Defining Edge
Outstanding quantity and quality of content and support material. Excellent value! Thank you.
Harvey
Enterprise Coach
How to Earn

Your Science of Self™ Accreditation

There are three options for attending the Science of Self™ Accreditation program
Contact Us for a Quote
Custom Inhouse Program
The in-house program is available for groups who have 5 or more participants.
This option means we can create a custom schedule for your group. We will create a private virtual training and customise the delivery to suit your teams needs and timeframe.
This is well suited to larger internal HR, OD and P&C teams or training, coaching or consulting practices with individuals who want to get accredited together.
Investment

Contact Us
Minimum 5 Participants
Most Popular Option
Public Virtual Program
The public Science of Self™ accreditation is run as 2 consecutive days of virtual training with some prior online learning.
As the most popular option, this program provides the most opportunity to interact with other facilitators, see how different activities are conducted and get the most from your investment.
These public virtual events are held monthly and you can get started right now with your pre-learning learn modules. See the public course dates below.
Investment

$3750 + GST per person
Virtual Program discounts apply
For Those Already Accredited
Upgrade/Refresh Program
This option is available to those who are already accredited with us, or another DISC provider. It allows you the ability to upskill in the Science of Self and earn the 3 accreditations while recognising some of your prior learning.
In order to qualify for this option, you must be able to produce a certificate from your existing provider to confirm your accreditation.
To discuss the Upgrade/Refresh Program, call us to speak with our friendly team.
Investment

Contact Us
Minimum 5 Participants
Public Virtual Science of Self Accreditation Dates
Live Virtual Session
24 - 25 May 2022
Live Virtual Session
28 - 29 June 2022
Live Virtual Session
26 - 27 July 2022
Live Virtual Session
30 - 31 August 2022
Live Virtual Session
27 - 28 September 2022
Live Virtual Session
25 - 26 October 2022
The balance of content, practice, and reflection was very well managed. The knowledge and presentation skills of the facilitator were first class. A rich learning experience.
Peter
UNE Business School
The holistic and in-depth insights this accreditation provides is so much more than you get from the DISC profile on its own. Can't wait to get stuck into it with our line managers.
Ashlea
SmartSalary
Comprehensive, interesting, efficient and relevant. Good toolkit and thought-stimulating application possibilities. Thank you!
Shobana
Specsavers
For people wanting education and practical tools to apply in the 3 topics covered, this training is awesome!!!
John
Launch Coaching
Professionally run, very interesting content backed by research and data. Interactive training and flexible in terms of discussion and clarification.
Delwyn
HR Consultant