Driving Forces Accreditation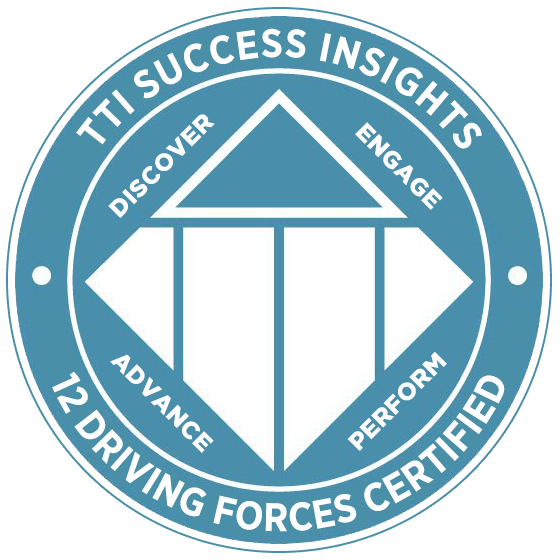 TTISI 12 Driving Forces Certified
The TTI Success Insights 12 Driving Forces Certification is another powerful addition for any trainer, coach or consultant's toolkit, and is an internationally recognised accreditation that signifies a person's understanding of the Driving Forces Assessment. Tools exploring personal motivation and drivers are highly sought after around the globe and our accreditation process will help you understand and apply these principles to your organisational setting. If you are looking for a model to help you and others understand, appreciate and apply the concepts of personal motivation, our Driving Forces Accreditation can help.
The
First Multi-Science

Accreditation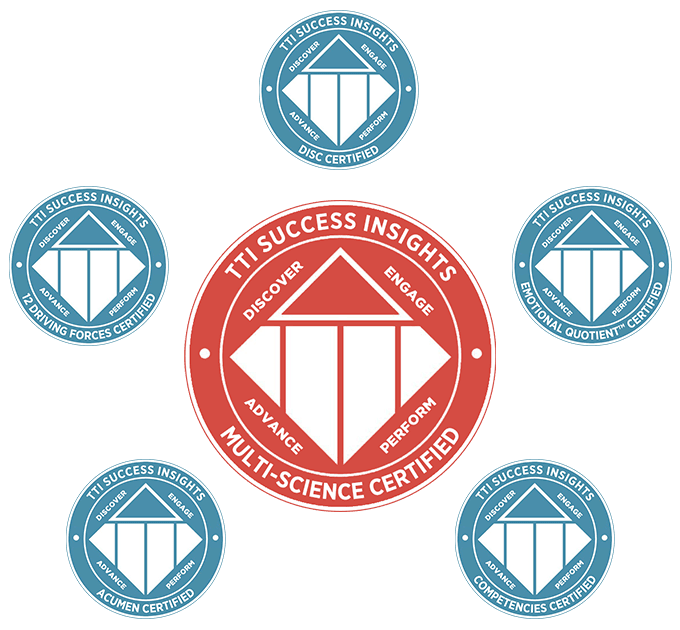 When you only have a hammer, every situation is a nail.
TTI Success Insights® was the first company to develop a series of 'multi-science' assessments. This means we have a unique ability to understand people from multiple perspectives and gain a deeper understanding and appreciation of uniqueness. Unlike traditional assessment companies, TTISI continues to strive for deeper insight and understanding by combining multiple sciences of performance.
The Driving Forces Accreditation is a powerful next step for anyone who has been exposed to behavioural-based assessments, for example DISC. Our Driving Forces assessment will provide you with a deeper understanding that goes beyond behaviour. It helps to appreciate and understand the different things that move people into action — something a behavioural assessment cannot do! We are the only company in Australia who can provide you with both a multi-science accreditation as well as multi-science tools, thus providing you a unique competitive advantage.
Driving Forces Accreditation via the
Science of Self™ Accreditation
To access the Driving Forces profile, accreditation is first required. To achieve your DISC accreditation, you will need to attend our Science of Self Accreditation. In this 2-day training program, you will attain certification in DISC (exploring behaviour), Driving Forces (exploring personal motivators/drivers) and EQ (exploring emotional intelligence).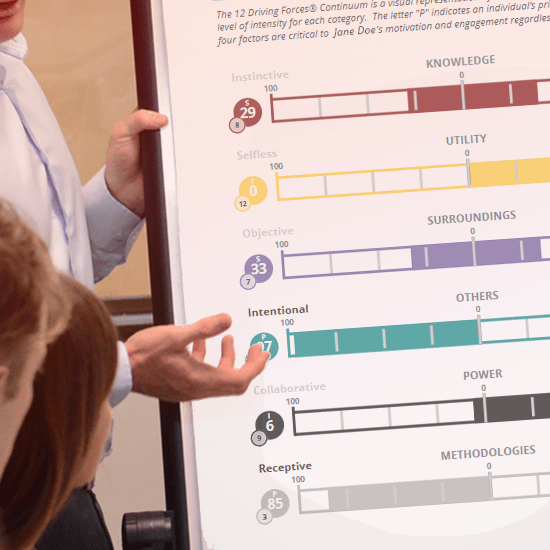 As part of this accreditation you will get:
Earn 3 internationally recognised accreditations
Gain access to 6 cutting edge assessments
Maintain lifetime access to our award-winning e-learning platform
Receive the Science of Self™ Manual
Receive DISC & Driving Forces activity belts
Be personally debriefed on your 60+ page TriMetrix EQ profile
Receive copies of our research and validation data

Unlock FREE access for 1 year to Facilitators Heaven, including:

Facilitation process documents
Complete DISC facilitator's notes
Complete 12 Driving Forces facilitator's notes
Complete Emotional Quotient facilitator's notes
200+ DISC workbook/activity pages
200+ Driving Forces workbook/activity pages
200+ EQ workbook/activity pages
1000+ PowerPoint Slides
Unlimited Phone And Email Support From Our Team
The Ultimate OD Toolkit at the Ultimate Price
Unlike most assessment companies, we are able to provide you with more than one perspective, ensuring you have a more complete understanding of human performance. In total, we offer 5 sciences of performance. Attending the Science of Self accreditation will ensure you have more tools, resources, solutions, and better quality training to solve more client challenges — and ultimately win more business!
There are two options available for attending this course. Our most popular option is our Live Virtual Public Program. These are facilitated monthly from our purpose-built virtual training studio. The second option is to arrange an In-House Program (available if you have a group of 5 or more people). These in-house programs can be customised to target specific outcomes for your group.
Click here to learn more about the Science of Self™ Accreditation
The investment for this accreditation option

$3750 + GST
Virtual Program discounts apply - contact us for further details.