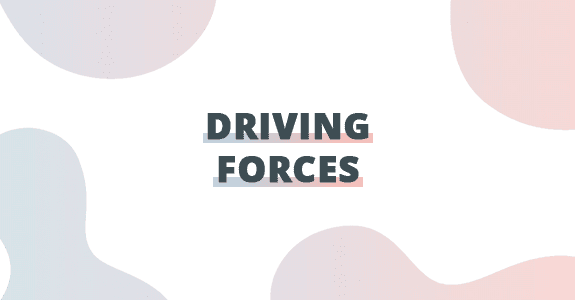 What is Driving Forces?
Driving Forces: Single-Science Profile
12 Driving Forces™ is the most advanced assessment released by TTISI to date looking at personal motivators or engagers. Driving Forces explains why people do what they do, what gets them excited, and what keeps them engaged. Whereas the earlier Motivators profile only looked at 6 core human motivators, Driving Forces now expands these out to 12 factors.
What does
Driving Forces Measure

?
Driving Forces explores the question: WHY do we move into action?
A motivator (or value) is a cluster of beliefs with a similar underlying pattern or idea that we believe to be fundamentally important. Our primary motivators help determine what gives us joy, happiness, energy and purpose — at work and in life.
Our strongest motivators provide us with a continuous source of motivation to seek out their fulfilment. They are also the source of dissatisfaction when they are violated or ignored. When it comes to business partnerships, just as it does with dating and falling in love, people can overcome basic behavioural (DISC) differences, but values are the thing that will make or break a relationship.
The
Driving Forces Report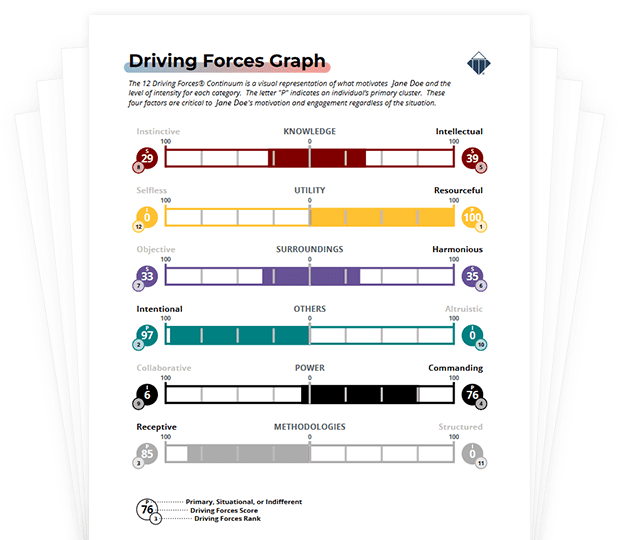 Exploring 12 Driving Forces™
The Driving Forces profile is a 14-page report. It takes you a step beyond the standard behavioural assessment to dive deeper into the world of personal values. There are 12 drivers measured by the assessment:
Intellectual - Driven by opportunities to learn, acquire knowledge and the discovery of truth.
Instinctive - Driven by utilising past experiences, intuition and seeking specific knowledge when necessary.
Resourceful - Driven by practical results, maximising both efficiency and returns for their investments of time, talent, energy and resources.
Selfless - Driven by completing tasks for the sake of completion, with little expectation of personal return.
Harmonious - Driven by the experience, subjective viewpoints and balance in their surroundings.
Objective - Driven by the functionality and objectivity of their surroundings.
Altruistic - Driven to assist others for the satisfaction of being helpful and supportive.
Intentional - Driven to assist others for a specific purpose, not just for the sake of being helpful or supportive.
Commanding - Driven by status, recognition and control over personal freedom.
Collaborative - Driven by being in a supporting role and contributing with little need for individual recognition.
Structured - Driven by traditional approaches, proven methods and a defined system for living.
Receptive - Driven by new ideas, methods and opportunities that fall outside a defined system for living.
Note: Driving Forces also includes feedback on what a person should try to avoid based on their motivators. TTI's brain-based research confirms that this has a deep subconscious impact on our decision making.
Driving Forces Profile: A
Multi-Science

Approach
Driving Forces is a Single-Science Assessment - It explores the science of motivation or Why we move into action
Explore our Multi-Science Assessments, combining - Acumen, Behaviour, Driving Forces, Competencies, Emotional Intelligence
Everyone is different. People connect with certain tasks, ideas, and people for a variety of personal reasons. When we have a framework to understand why people move to action, we are better equipped to influence, engage and lead others. However, understanding a person's motives is only one piece of the puzzle. With more information, we can have a much greater impact, and this is where our "multi-science" assessments come in.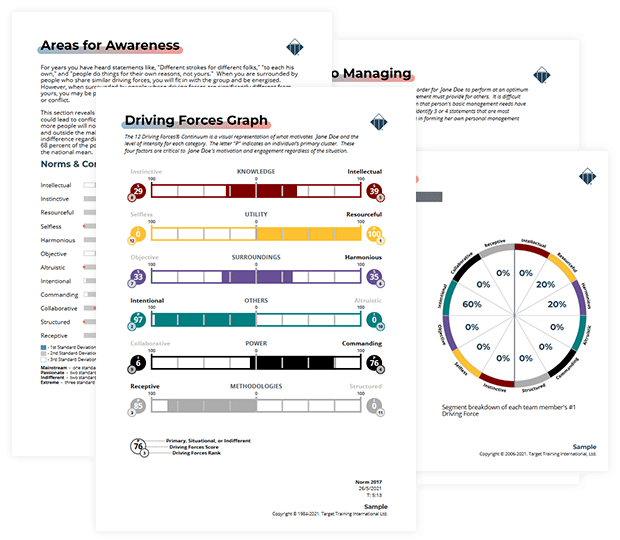 Why is Multi-Science Important?
When we only use Driving Forces (or any single-dimensional assessment), we only have one perspective to understand people. By combining the DISC profile with the Driving Forces assessment (known as Talent Insights®), we have not only WHY a person moves into action but HOW they will attempt to satisfy these motivators. With this combined information, we can start to understand why two people with a strong Altruistic driver (the drive to help others) will go about it in very different ways. For example, one person with a strong Altruistic driver and a high "D" behavioural style will likely want to help others but will do so in a direct and forceful way, while a person with the same strong Altruistic driver and a high "S" behavioural style will likely help others by being patient, supportive and sharing. With a multi-science approach, we have a more complete understanding of an individual and we can develop plans to help them be more effective, personally and professionally.
Versions

of the Driving Forces Profile

The Driving Forces reports are available in a number versions, each designed to support your initiatives and help you achieve your desired results. All of our tools have been designed with flexibility, practicality, and multiple uses in mind. This means you can invest once in the right profile and use it throughout the employee life cycle to maximise your investment. As a single-science report, Driving Forces explores personal motivators ONLY. There are three types of reports in the TTI Success Insights® Driving Forces series, including: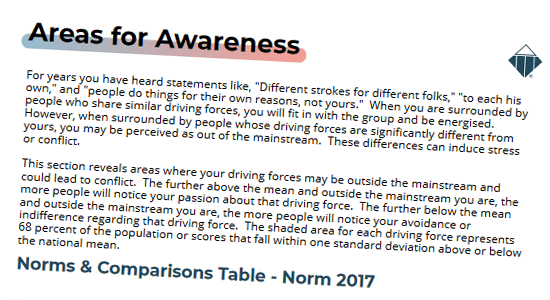 Driving Forces Job Profiles
Providing a validated way to profile the unique positions in any business and determine the "ideal" motivators of a superior performer. We refer to this as "Position Benchmarking".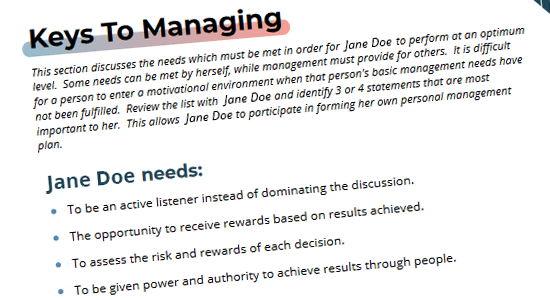 Driving Forces Coaching and Development Reports
These reports have been designed to comprehensively explore a person's personal motivators. Each report includes both personalised content as well as graphs for deeper interpretation.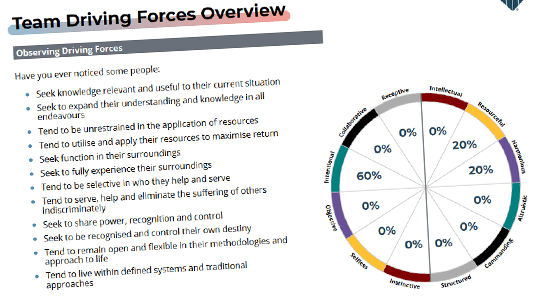 Driving Forces Team Reports
A report designed to explore the values of a group or team. Using the TTI Success Insights® Driving Forces Wheel, this report places up to 20 people into a single report to better understand what motivates the group as a collective.
Common Uses

for the Driving Forces Report

The Driving Forces profile is commonly used in the following functions:
Personal
Personal Effectiveness
Family Relationships
Marriage Counselling
Career Planning
Recruitment
Recruitment and Selection
Induction
Position Benchmarking
Strategy and Management
Competency Framework/Development
Engagement/Motivation
Planning and Strategy
Change Management
Conflict Resolution
Outplacement
Culture/Transformation
Training and Development
Leadership Development
Communication Effectiveness
Team Effectiveness
Sales Development
Customer Service Training
Coaching/Mentoring Relationships
Why they
Love Driving Forces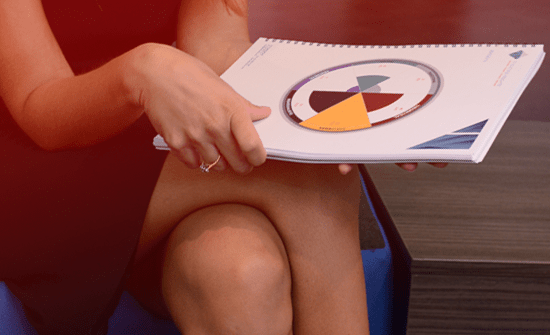 Coaches
They love the Driving Forces assessment because it provides insight into how to connect with and influence the coachee.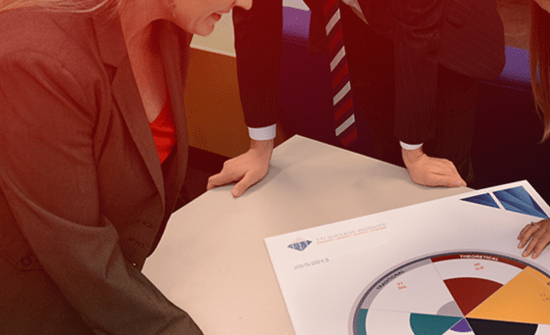 Trainers
They love Driving Forces because of its simple yet powerful framework that is easily applied to multiple topics and expands on previous DISC training.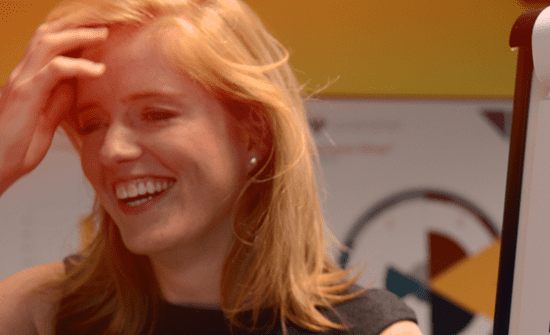 Consultants
They love Driving Forces because it helps them to understand why different people will become engaged or disengaged in certain situations.
Driving Forces Accreditation via the
Science of Self™ Accreditation
To access the Driving Forces profile, accreditation is first required. To achieve your Driving Forces accreditation, you will need to attend our Science of Self™ Accreditation. In this 2-day training program, you will attain certification in DISC (exploring behaviour), Driving Forces (exploring personal motivators/drivers) and EQ (exploring emotional intelligence).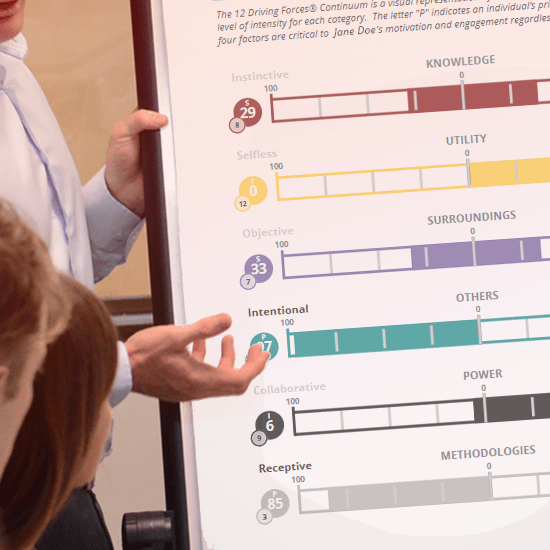 As part of this accreditation you will get:
Earn 3 internationally recognised accreditations
Gain access to 6 cutting edge assessments
Maintain lifetime access to our award-winning e-learning platform
Receive the Science of Self™ Manual
Receive DISC & Driving Forces activity belts
Be personally debriefed on your 60+ page TriMetrix EQ profile
Receive copies of our research and validation data

Unlock FREE access for 1 year to Facilitators Heaven, including:

Facilitation process documents
Complete DISC facilitator's notes
Complete 12 Driving Forces facilitator's notes
Complete Emotional Quotient facilitator's notes
200+ DISC workbook/activity pages
200+ Driving Forces workbook/activity pages
200+ EQ workbook/activity pages
1000+ PowerPoint Slides
Unlimited Phone And Email Support From Our Team
The Ultimate OD Toolkit at the Ultimate Price
Unlike most assessment companies, we are able to provide you with more than one perspective, ensuring you have a more complete understanding of human performance. In total, we offer 5 sciences of performance. Attending the Science of Self™ accreditation will ensure you have more tools, resources, solutions, and better quality training to solve more client challenges — and ultimately win more business!
There are two options available for attending this course. Our most popular option is our Live Virtual Public Program. These are facilitated monthly from our purpose-built virtual training studio. The second option is to arrange an In-House Program (available if you have a group of 5 or more people). These in-house programs can be customised to target specific outcomes for your group.
Click here to learn more about the Science of Self™ Accreditation
The investment for this accreditation option

$3750 + GST
Virtual Program discounts apply - contact us for further details.